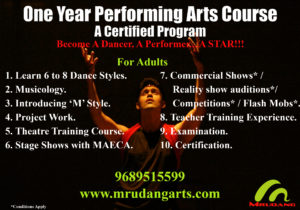 One Year Performing Arts Course (OYPAC):-
A platform which gives you a space where you can explore the world of performing arts through Dance, Music & Theater. Become stronger, flexible & better performer.
Explore the Creativity in you. Become A Dancer, A Performer… A STAR!!!
The OYPAC consists of many different modules like:-
Learn many Dance Styles:-
From Jazz, Hip Hop to Urban and Contemporary. Learn various styles of dance by trained choreographers. Journey from Basic to Advance.
Musicology:-
Studying music in different ways. Rhythm awareness, learn Accapella, Create Rhythm, Introduction to different types of Music.
Introducing 'M' Style:-
Mrudang Style. A unique blend of Modern, Contemporary, Indo Jazz with Lyrical. This style helps a Dancer to understand & go through body awareness, dancers' body language, musicology, ballet technique, meditation & hardcore fitness program.
Project Work:-
An opportunity to create your own choreography in different styles & showcase it on stage. This gives chance to work as a team & also to create, learn & understand the concept of Choreography as a Choreographer.
Theater Training Course:-
A Choreography has no meaning without A Dancer & Dancer as no value if he is not a Performer. Theater Training Module completes an Individual. Learn art of Theater / Stage acting by professional actor from industry. A very very important area for a dancer to explore the inner artist. Get over with stage fear and just be a STAR!!!
Stage Shows with MAECA:-
You will be part of 3 shows conducted by MAECA. Scheduled in August 2016, December2016 & February2017. This is a simple platform to see the level you have achieved and show case yourself to live audience. By end of 3rd show (Feb 2017) you would be handed certificate of successful completion of OYPAC.
Commercial Shows* / Reality show auditions*/ Competitions* / Flash Mobs*:
We would be helping you to take part in Reality show auditions. Also make you part of commercial shows, dance competitions and flash mobs. Everything trained by our team.
*if anything comes up during your academic year time period.
Teacher Training Experience:-
If you are interested to take an experience of our side of stage and you have a potential to be a trainer, then you are most welcome to join us. Onsite training experience with our instructors & become one of us. (We do conduct Teacher Training Course separately).
Examination:-
Don't get worried or scared with this fantastically horrifying word. Nothing that difficult is going to be there. Everything which you have learned regarding dance technique, music, history of styles and dance would be asked. Just allowing us to know how much has been learned, which in the end allows us to help you to achieve which you are suppose to, by the end of the course.
Certification:-
By the end of the course, that's in February 2017 you will be certified OYPAC student.
Learned different dance styles, performed on stage and Ventured to a new world of Dance successfully.
Join us to this wonderful journey of Performing arts and relive your passion to become a Dancer.
Venue Details:- http://www.mrudangarts.com/erandwane-kothrud/ ‎
Please follow and like us: