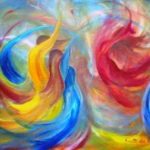 Healing Through Dance & Music
It's a Unique concept where you use Creative Movement through Dance & Music as a medium to understand connection between Body to Body, Sole to Soul.
Warmup Session.
Creative Movement.
Rhythm Awareness.
Choreography
Meditation
Warm-up Session
We follow basic Stretching and Toning exercise. That's more of Ballet and Isolated movement on mostly non-commercial world music.
Creative Movement
An Art of Dance for Self-Expression, Creative outlet and Artistic objectives. It integrates dance to explore personal self, access depth and work towards self-reflection and realisation.
Rhythm Awareness
Play rhythmic game to connect to external rhythm which helps you to understand beats in a different way.
Choreography
Style which will do is Contemporary / Indo Jazz. Through dance you actively reconnect, revitalise and renew confidence in one's self. Through dance you try to understand yourself, being comfortable with yourself.
Meditation
Through guided mediation you connect to your inner self. Inner balance creates outer balance as a performer.
Please follow and like us: